The Story of Canterbury Castles
"The power of Promoter-based Storytelling."
Who was this for?
This documentary-style, Corporate Video was produced for Bangalore Regency Developers Pvt. Ltd; a family run real estate venture that was started 22 years ago by the Quadros family. What started as a side-hustle, soon turned into a 112 acre BMRDA approved layout.

What problem did we solve?
Canterbury Castles had a unique set of challenges for us to solve.
The first, was a genuine need to collate and communicate the historical efforts that had gone into creating this property. This was not a run-of-the-mill real estate development spawned in a cold, air conditioned boardroom of a corporate builder. There were years of personal sweat and blood that went into building this community. That according to us was a story worth telling the public. On a softer note; the fact that this family story was documented this articulately also acted as a personal record for the Quadros family, that would forever be cherished.
The second challenge was literally a logistical problem that Leslie Quadros, the current Marketing Director was facing on a day to day basis. People who physically visit Canterbury Castles along with him have a statistically higher probability to purchase a plot of land as compared to those who just read about it online or via a brochure. But this meant that every potential customer needed to be personally escorted up and down by Leslie himself. Since Canterbury Castles is located on the outskirts of Bangalore (near Nandi Hills), and since Leslie was but one man, this predicament was proving to be quite the bottle neck.
How did we solve this problem?
In total we produced four different films for Canterbury Castles. One Corporate Video, one aerial tour and two testimonial films. It must be noted that these films were sanctioned via our parent company Lazaro that took on the development of an entire Collateral Kit for Canterbury Castles. So they played a part in a much more elaborate universe of content that spread across physical print and web.
The idea behind this entire Collateral Kit; of which the films played an integral part, was to document the journey that Leslie took on a daily basis, the conversations that he had with customers and concatenate it into an experience that could replayed as many times as necessary for consumers.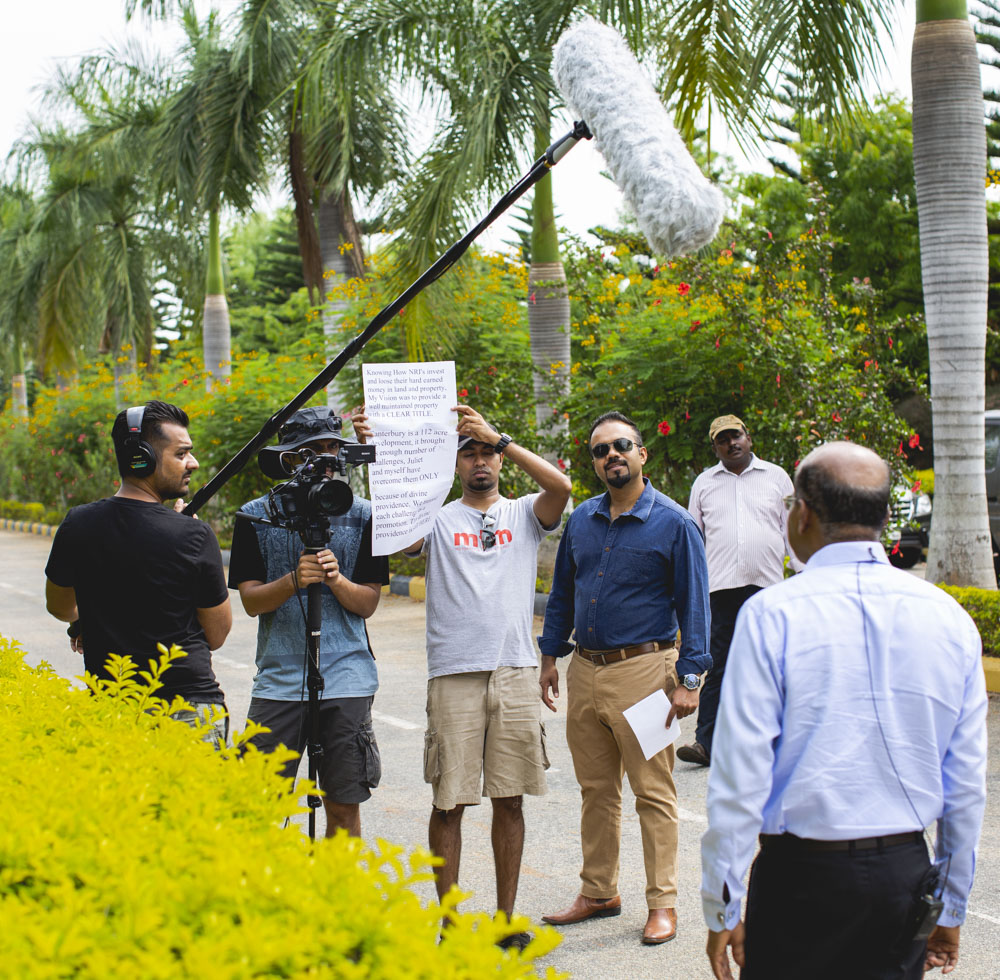 The main Corporate Video featured on this page took on a Documentary style to narrate the story behind Canterbury Castles. The most powerful decision we made (in our opinion) was to get Leslie himself to anchor this entire film. All credit of course must be given to him for putting in the effort needed to nail his performance, he endured multiple takes, long drives, hours of studio time and plenty of hours in the sun to get what we finally canned.
The film encapsulates not just the historical journey of the project but more importantly emphasises the key benefits and the futuristic growth that an investor can reap. All of which is presented from the viewpoint of the promoter himself.
We believe that Promoter based storytelling is indeed the most potent form of communication possible with a customer. The degree of transparency, trust and competence that is subliminally transferred to a consumer by breaking past the opaque, corporate veil is extraordinary.
To garner a more holistic idea of the experience that our parent company envisioned click here.
Crew Credits
Writer – Jude Nicholas Lazaro
Director – Mark Nicholas Lazaro
Production Head – Prashanth P
Support Crew – Aditya Kumar
Sound – Mark Von Reddy
Editor – Mark Nicholas Lazaro, Jude Nicholas Lazaro & Aldrin Mario Windsor
Presenter – Leslie Quadros
This film was produced and shot by DCAM Production Studios Pvt Ltd (A Corporate Video Production Company based in Bangalore, India).