Cowrks
"A quintessential Corporate Video helmed by its Founder."
Who was this for?
This Corporate Video was produced for Cowrks. Cowrks is a startup providing state-of-the-art co-working spaces for entrepreneurs, freelancers, startups, and even Fortune 500's. With dozens of centres burgeoning across India; Cowrks currently has a presence across Bangalore, Mumbai, Delhi NCR, Hyderabad and Chennai.

What problem did we solve?
We were approached by Cowrks with a request to produce a Corporate Video that could convey not just the what the company did, but to showcase it's Centres and more importantly convey the energy and ethos of the Brand.
There was also a specific mention of the fact that their direct competition Wework was a multinational company and the need to produce content that challenged the quality of the content produced by Wework's American teams was imperative.
How did we solve this problem?
We believe that Promoter based storytelling is indeed the most potent form of communication possible with a customer. The degree of transparency, trust and competence that is subliminally transferred to a consumer by breaking past the opaque, corporate veil is extraordinary. Some of the best examples of such Founder/Promoter lead communication is, of course, legendary individuals such as the late Steve Jobs and Elon Musk.
When we met with Sidharth Menda the Founder of Cowrks; it was clear that he had the personality and a command of the language to anchor this film. Listening to the story of a company when voiced by its Founder is exponentially more powerful than hiring the best Voice Artist in the world to do the same.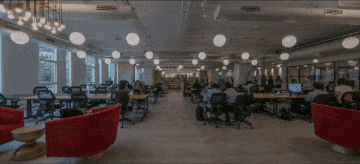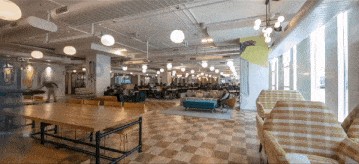 The film was shot across two Cowrks centres in Bangalore. For the first time in our Corporate Film history, we introduced long distance motion time lapse. We have been working on techniques for the last couple of years to make this possible. This was the first time we used it on a commercial project. The outcome as you will see is incredible. It is also the most perfect film-making mechanism that does justice to capturing an internal space.
We worked with Cowrk's in-house Copy and Marketing teams and uncovered a series of communication objectives which we structured into facts that could be voiced by Cowrks personnel and facts that needed to be heard from an existing customer. The only way to make a not sound boastful is to have your customer say powerful things about you and for you to just stick with the facts. That was a strategy we used well on this particular Corporate Video.
Crew Credits
Writer – Jude Nicholas Lazaro
Director – Jude Nicholas Lazaro
Cinematographers – Mark Nicholas Lazaro & Jude Nicholas Lazaro
Production Head – Prashanth P
Timelapse – Prashanth P
Sound – Mark Nicholas Lazaro
Editor – Jude Nicholas Lazaro
Makeup Artist – Vikram Mittal
Gimbal Technician – Sachin

This film was produced and shot by DCAM Production Studios Pvt Ltd.
www.dcamproductions.com